featured news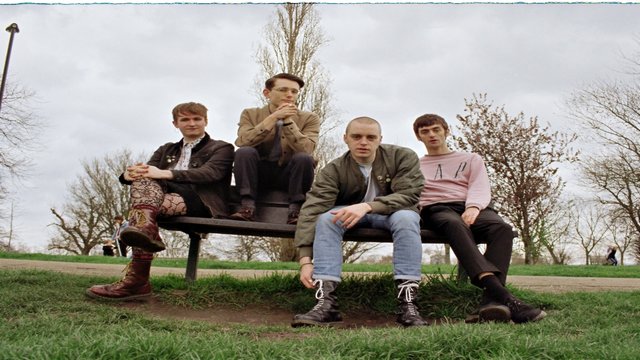 Italia 90 Hit The Road To Hell!
29th October 2019
Share:



Artist Profile
** ITALIA 90 HIT THE ROAD TO HELL! **
** SINGLE OUT NOW, EP III STORMING OUT IN NOVEMBER! **
The Band: ITALIA 90
The Release: 'EP III'
The Format: FIVE TRACK DIGITAL EP
The Labels: FIERCE PANDA / PERMANENT CREEPS
The Release Date: NOVEMBER 15TH 2019
The Tracklisting:
1. 'STROKE CITY'
2. 'AN EPISODE'
3. 'OPEN VEINS'
4. 'ROAD TO HELL'
5. 'AGAINST THE WALL'
The EP Digital Link: orcd.co/epiii
The Truth: ITALIA 90 consist of Les Miserable (vocals), DJ MUMSNET (guitar), Bobby Portrait (bass) and J Dangerous (drums). They live in South London and the succintly-named 'EP III' is their third five track extended play collection. 'An Episode' was the intense first single off the EP in September, followed by 'Road To Hell', out on November 1st and available from orcd.co/italia90_roadtohell
If 'An Episode' was a post-punk post-mortem of a troubling late night encounter, 'Road To Hell' shines more light on the brutalist tendencies of the 'EP III' package with the galloping bassline and squawking guitar madness backing Les Miserable's urgent barkings against the metropolitan forces: "Disrupt the capital! Agents of antogonism!" he shouts, fretting about the capital's PCs not being, well, very PC.
With a string of exuberantly bolshy live shows beneath their braces 'EP III' follows a pair of digital singles in 2018 (with the experimental Newcastle-based imprint Box Records), and two sold out self-released cassettes. The band's autumnal reappearance with 'EP III' marks an evolution of the energetic, dissonant and angular sound they established on those releases.
"Our music threads together several disparate influences," say Italia 90, "but we are united by friendship and a drive to make exciting, interesting and politically and socially engaged music."
This much is true – not for nothing are Italia 90 the first band in the history of fierce panda to garner comparisons to Angelic Upstarts and Campag Velocet in the same breath. And as if having one of the greatest indie band names of the modern era wasn't enough to be going on with the first track on 'EP III' is called 'Stroke City'. Good work.
Now go see the cacophonous Italia 90 live experience at these shows here and here:
2019
06 November – LONDON Hackney Moth Club (supporting LIFE)
09 November – NETHERLANDS UTRECH Le Guess Who? Festival
12 November – BRIGHTON Komedia
27 November – LONDON Peckham Audio (supporting Delilluh)
2020
23 January - LONDON The Lexington
24 January - GUILDFORD Boileroom
25 January - CARDIFF The Moon
30 January - BIRMINGHAM Sunflower Lounge
31 January - BRIGHTON Latest Music Bar
07 February - GLASGOW Broadcast
08 February - EDINBURGH Sneaky Pete's
21 February – MANCHESTER Gullivers
"...Very much rate this, and certainly don't think that Wire, Alternative TV, Sauna Youth and Institute's 'Catharsis' LP are excessively flattering reference points..." The Quietus
"...Catnip for fans of Protomartyr or The Fall..." The Ransom Note
"...Sounds as though it was recorded in a working sawmill..." Hard of Hearing Music
"...The sound this four piece create recalls those early Wire recordings, Joy Division cassettes and Gang of Four bootlegs at least one mate would own having sneaked a cassette recorder into the venue to record and listen to a few weeks later..." Louder Than War
www.facebook.com/italia90band
www.facebook.com/permanentcreeps
www.fiercepanda.co.uk