featured news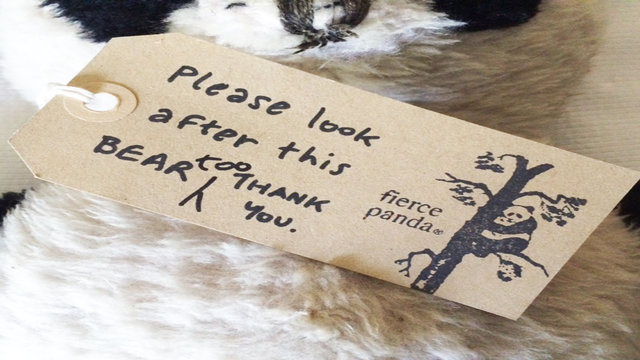 Please Look After This Bear Too!
2nd October 2017
Share:



Artist Profile
* FIERCE PANDA RELEASES 'PLEASE LOOK AFTER THIS BEAR TOO' DONATION COMPILATION *
* PAY-WHAT-YOU-LIKE FOR SIXTEEN MORE TRACKS OF MANICALLY MOROSE ALT.POP THRILLS *
A bearly alive fierce panda one sheet
The Release: 'PLEASE LOOK AFTER THIS BEAR TOO'
The Artists: VARIOUS
The Formats: DIGITAL DOWNLOAD COMPILATION
The Release Date: OUT NOW
The Truth: 'Please Look After This Bear Too' is a digital donation compilation album. It is released by fierce panda records on Spotify via goo.gl/tdQfXm and on a pay-what-you-want basis via the top secret download link lurking below. Yep, simply make a donation of your choice to get this entire compilation. 'Please Look After This Bear Too' follows last year's inaugural donation compilation which was called 'Please Look After This Bear', the title of which was cribbed from the story of Paddington. RIP Michael Bond.
16 x 79 iTune pennies equals £12.62, fiscal fact fans, but you can pay more or pay less or indeed pay whatever you want (although the recommended minimum payment is £3.99) right here (:
The acts on 'Please Look After This Bear Too' are in anti-alphabetical order. The digital album features sixteen tracks, most of which are hauled from albums, mini-albums or EPs which came out over the past year and which are available from your favourite digital outlets or www.fiercepanda.co.uk right now. We reckon it sounds pretty dreamy, even when it's being hopelessly miserable. This is how we do it...
1. Wooden Arms 'Burial'
Gloomy alt.classical dreamings from Norwich. Off the 'Trick Of The Light' album due 06/10.
2. The Velveteins 'Midnight Surf'
Drowsily cosmic psychpop from Canada. Off the 'Soft Wave' album.
3. S.G. Wolfgang 'Brother'
Stompy beardy preachings from Milton Keynes. Off the '7 Deadly 7' EP.
4. Park Hotel 'Gone As A Friend'
Exuberantly groovy alt.uptown funkings. From the fierce panda Singles Club February '17.
5. National Service 'A Little More Time'
Toweringly gloomy alt. rock number. From the fierce panda 2016 Singles Club January '17.
6. LeRiche 'Under Covers'
Lush and lovelorn alt.soft rockings from Canada. From the 'X Dreamers' EP due 24/11.
7. Leaone 'Goldtooth'
Heartbreak and brooding from Suffolk crooner. From the 'Oh, My Sweetest Sin' EP.
8. Albert Gold 'Oxygen'
Heartbreak and brooding from Hackney soulman. From the 'Oxygen' EP.
9. Ghost Suns 'We Are Not Good People'
Deadpan euro electropoppings from Hornsey via France. Taken off the EP of the same name.
10. Fightmilk 'Pity Party'
Feisty indiepunkings from girl / boy London combo. Taken off the EP of the same name.
11. 485C 'Oh Rhianna'
Belligerently intellectual artpop from Far East London. One of three 485C fierce panda singles.
12. Easy Kill 'Phantom Pain'
Much-haunted experimental misery from Manchester. From the 'Melanscholar' album, out 22/09.
13. Desperate Journalist 'Hollow'
Powerful and intense alt.goth.pop from North London quartet. Off the 'Grow Up' album.
14. The Caress 'You're Always Miles Away'
Dreamily intelligent retro indiepop from brotherly trio. Off the 'You Say I Kiss Like A Girl' EP.
15. Alphaduka 'I'll Follow You'
Lavishly morose alt.poppers get wistul and emotive. From the 'Alphaduka' mini-album.
16. Alma 'To The Stars' (Charlie Barnes Rework)
Heroically melancholic post-rockers get joyously reworked by live Bastille teamster. From the 'Remixes And Reworkings' album.