featured news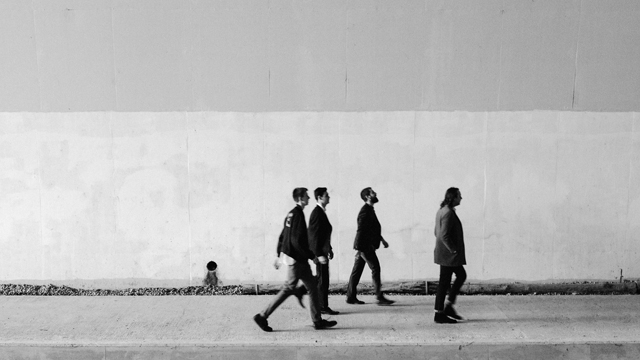 Easy Kill Head Into Orbit!
18th January 2018
Share:



Artist Profile
** EASY KILL FLY HIGH ON NEW 'GUILT TRIP TO THE MOON' SINGLE! **
** AND HEADLINE BIRTHDAYS ON FEBRUARY 10TH 2018! **
A lunar tune of a fierce panda one sheet
The Act: EASY KILL
The Release: 'GUILT TRIP TO THE MOON'
The Format: DIGITAL SINGLE
The Release Date: FEBRUARY 2ND 2018
The Label: fierce panda records
The Truth: EASY KILL still come from Manchester, England. They consist of Theo Tobias, Ronan Clowes, Alex Howes, Andrew Keaveney and Thomas Short. 'Guilt Trip To The Moon' is the third single to be taken from 'Melanscholar', their debut album which was released on fierce panda last September, and it follows on the hazy heels of lead-off track 'Phantom Pain' and second single 'Constant Hum'.
The narrative arc of the 'Melanscholar' album is said to follow the journey of a lost soul trying to find its bearings in the afterlife. Unsurprisingly then, 'Guilt Trip To The Moon' follows its singular predecessors in the haunted stakes, rattling along with synthetic surges and gloomily sympathetic melodic urges.
"It's a moody night drive song where the jangly guitars reflect the glowing moon and the self-deprecating lyrics semi-seriously contemplate the theme of guilt (in all its pointlessness)," explains singer Theo, not unreasonably. "The video explores this theme by following a guilt-ridden man driving himself further into the depths of deprived insanity after accidentally reversing over his own dog."
To celebrate the release of 'Guilt Trip To The Moon' EASY KILL headline this show here:
SATURDAY FEBRUARY 10TH 2018
LONDON DALSTON BIRTHDAYS
(33-35 Stoke Newington Road, N16 8BJ)
+ The Caress
Doors 7.30pm
Tickets £5.00 advance
www.facebook.com/events/1890106364636773/
The EASY KILL sound has been half-chokingly labelled 'doom-pop', a term which highlights the duality underpinning their music, wherein quiet thoughtful lulls are followed by louder moments of uplift or down-spiral. This angsty theme has been carefully honed in Easy Kill's previous releases, the 'Already Entitled' EP (2015) and the 'Sermons' EP (2016). But it hits a whole new creative apogee with the 'Melanscholar' project, which sees EASY KILL running with the concept of life in the afterlife.
With its spectral, synthetic layers and perplexed vocals 'Melanscholar' is an unfathomably LOVELY record; modern and maudlin, like a woeful Foals blended with sad-faced post-Alt-J japery. But this is an album which is also aware of the ghosts of the past, infused at is with the spirit of Talk Talk while at one point in 'The Lake' they sound like an ethereal 10CC. They're not in love. So don't forget it…