featured news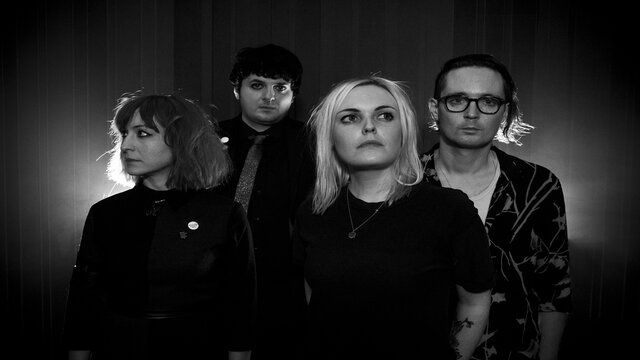 It Gets Better For Desperate Journalist!
4th January 2018
Share:



Artist Profile
* 'IT GETS BETTER' FOR DESPERATE JOURNALIST! *
* BRAND NEW SINGLE AND LOWKEY LONDON SHOW OCCURRING ON JANUARY 12TH! *
a stealthily refreshed fierce panda one sheet
The Band: DESPERATE JOURNALIST
The Release: 'IT GETS BETTER'
The Format: DIGITAL SINGLE
The Release Date: JANUARY 12TH 2018
Never ones to shirk their New Year responsibilities, scowling post-punk enthusiasts DESPERATE JOURNALIST are launching themselves out of the 2018 traps with a brand new single release and a brace of shows which will see them race from The Old Blue Last to Butlin's in Bognor Regis on a frenzied Friday night.
A fulsome year on from the timely alt.pop meltdown of 'Resolution' and the appearance of second album 'Grow Up' the festering quartet – comprised of Jo Bevan (vox), Rob Hardy (guitar), Simon Drowner (bass) and Caz Hellbent (drums) – are releasing a new single called 'It Gets Better' on January 12th and playing these special shows here:
JANUARY 12TH LONDON SHOREDITCH THE OLD BLUE LAST
Pandamonium '18
(+ Giant Party + Ghosts Of Dead Airplanes + The Talk Show)
FREE ENTRY
RSVP: www.facebook.com/events/143743999599486/
JANUARY 13TH ROCKAWAY BEACH BOGNOR REGIS BUTLIN'S
(w/ Wild Beasts / The Horrors / British Sea Power / Peter Hook & The Light / Gang Of Four)
www.rockawaybeach.co.uk
Culled from the 'Grow Up' album sessions which took place at Dean Street studios in Soho Village in the cuddly company of Keith Top Of The Pops, 'It Gets Better' is Smiths-esque salty shakiness to the max, all slinky 12 string Rickenbackering and lovely gothic bass haranguing and all wrapped up in 2 manic minutes and 49 frazzled seconds.
"The song is about feeling stuck in a place of adolescent anxiety," explains singer Jo. "I have very vague memories of my teenage years because I kind of shot through them tightly balled up in a fist of self-loathing and despair, and the words are evocations of the little moments of history which randomly recall flashes of from time to time. As it happens, things did get better for me and I am much more content now generally speaking, but the song comes from the perspective of the nihilistic kid who can't believe that their angst will fade, that the acuteness of their misery is temporary. Happy New Year!"
Just when you think things couldn't get any better we can also reveal that 'It Gets Better' is a taster of a brrrrand new EP which is due out in April to tie in with more springtime dates, including a German tour. It will be called 'You Get Used To It' and much like the 'Good Luck' EP of 2016 it will consist of five tracks which act as a buoyant bridge between Desperate Journalist album releases just as the band start to focus on creating their third longplayer. In the meantime, here are some nice things some cute people said about the 'Grow Up' opus:
'Desperate Journalist are hammering their flag into the icy terrain of the epic end of post-punk (The Cure) and modern indie rock (Arcade Fire), and 'Grow Up' is a personal diary magnified to the scale of an IMAX screen'. - Q Magazine 4/5
'Bigger, better, more expansive and fresher, while their collective deportment has something of a swagger about it.' - The Quietus
'A huge undertaking, a staggering achievement. You need this' - The Skinny 5/5
'Bevan and Hardy have composed a modern masterpiece' - Louder Than War 10/10