featured news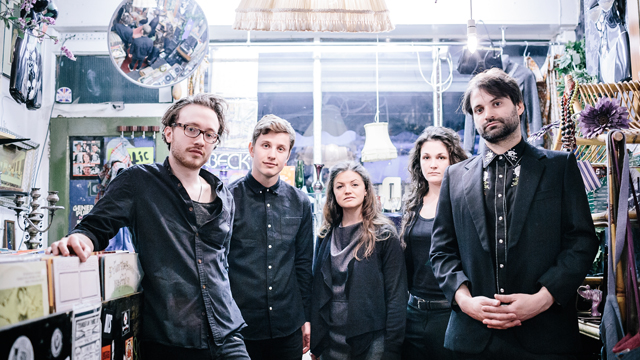 Wooden Arms Get Tricky On Tour!
21st October 2017
Share:



Artist Profile
** WOODEN ARMS GET TRICKY ON SECOND ALBUM! **
** DECEMBER DATES ANNOUNCED! **
A slyly macabre fierce panda one sheet
The Act: WOODEN ARMS
The Release: 'TRICK OF THE LIGHT'
The Format: ALBUM ON DOWNLOAD / VINYL* / COMPACT DISC
The iTunes link: https://itunes.apple.com/gb/album/trick-of-the-light/id1255903503
* vinyl self-released by the band via: http://www.woodenarms.co.uk/shop/trickofthelight
The Release Date: OCTOBER 6TH 2017 / The Focus Date: DECEMBER 8TH 2017
The Tracklisting: 1 'Trick Of The Light'; 2 'Restless'; 3 '20,000 Streets Under The Sky'; 4 'Cole Porter'; 5 'Lost In Your Own Home'; 6 'Bells'; 7 'Burial'; 8 'Movie Stall'; 9 'Encrypted'; 10 'Brevity'; 11 'Yawning At The Apocalypse'; 12 'Milk Teeth'
The Truth: WOODEN ARMS are a self-diagnosed "genre-fluid" quintet from Norwich who consist of Alex Carson (vocals / piano), Alex MacKenzie (drums / bass), Jeff Smith (guitar / trumpet), Connie Chatwin (violin) and Fifi Homan (cello). Those flowing genres are alternative, classical and trip-hop music, as you might expect from a string-enriched collective emboldened by the rhythmic sensibilities of Portishead carefully blended with the ethereal melodies of Sigur Ros. 'Trick Of The Light' is Wooden Arms' second album, released on October 6th, and precedes December-time live dates, as outlined further below.
'Trick Of The Light' appears an eerily precise three years since the 06.10.14 release of the Wooden Arms 'Tide' debut. And 'eerie' is very much the word that you heard, as this is a band who write broodingly cryptic singles called 'Burial' which are influenced by Edgar Allan Poe and who make panic-stricken videos which are described as "Kafka-esque", as you can see from the supremely creepy premiere for current single 'Lost In Your Own Home' here: https://www.thelineofbestfit.com/new-music/discovery/wooden-arms-lost-in-your-own-home
Fittingly then, 'Trick Of The Light' sees them moving away from the folk-orientated melodies of the 'Tide' debut to focus instead on darker, more contemporary sounds. Indeed, If their earnest combination of crushed melody and soaring strings sees Wooden Arms aim for ever-gloomier new heights then 'Trick Of The Light' is a prime example of their elegantly cultured ambitiousness, wherein slow-moving introductions often build to lushly melodramatic denouements, sometimes accompanied by morose trumpets.
Happily, Wooden Arms aren't lacking in a particularly noir-ish brand of black humour: while this is an album which is surely designed for the lonely and brave it also features a song called 'Brevity' which lasts for fully five minutes. The 'Lost In Your Own Home' track meanwhile is a concise little lyrical amble through the mind of the once-21 year-old singer Alex Carson experimenting with psychotropic drugs…in a converted mental hospital in central Norwich.
It's also a song which doesn't make much sense on paper with its unresolved, asymmetric rhythm tripping you up at every turn, yet it feels natural and organic and culminates in a thick percussive crescendo that epitomises the chaotic lyrical content - which would seem to pretty much sum up Wooden Arms right now. Go catch some orchestral light right here:
DECEMBER 13TH: CAMBRIDGE Portland Arms
DECEMBER 14TH: NORWICH Open
Advance tickets https://www.wegottickets.com/event/410503
"Wooden Arms have emerged with a brooding and delicate classical-folk song that is smothered in subtlety, tension and lush reverb." - The 405
"The band mix delicate piano with luscious strings and trip-hop inspired percussion to create something quite beautiful." - Tom Robinson (BBC6 Music)
"A most beautiful piece of music...Somewhat reminiscent of a Winged Victory for the Sullen with that sort of emotion and tone to it...Absolutely bewitching." - Simon Raymonde (Bella Union)