featured news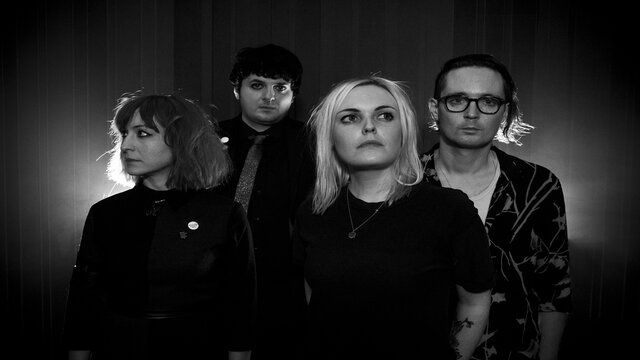 New Desperate Journalist Single & Dome Show!
21st May 2017
Share:



Artist Profile
* DESPERATE JOURNALIST RELEASE NEW SINGLE ON JUNE 2ND *
* SUMMERTIME SHOWS + DOME LONDON HEADLINE ANNOUNCED *
*TICKETS ON SALE NOW*
Gently bruised post-punk protagonists Desperate Journalist continue their seethingly excellent year with a slew of summertime appearances, the announcement of a headline show at London Tufnell Park Dome on October 19th and the release of a new single, 'Why Are You So Boring?' on June 2nd. .
Dome tickets are available here right here:
DICE (No Booking Fees)
SEE Tickets
We Got Tickets
Grow Up CD + Dome Ticket Bundle
The crunchy North London-based quartet released their second album 'Grow Up' in March to a fanfare of admirably excellent reviews (see below) and played a brilliant springtime Scala headline show on April 6th. After the singular successes of 'Hollow', 'Resolution' and 'Be Kind' on the blogosphere, 6music and Radio X next up comes the digital single release for 'Why Are You So Boring?', wherein singer Jo Bevan machineguns her lyrical way through Rob Hardy's howling guitar barbs and Simon Drowner and Caz Hellbent's vitriolic bass'n'drum combination for precisely two minutes and 33 seconds. 'Why Are You So Boring?' has a message in the madness, as Jo explains:
"The song is inspired by a certain type of irritating person I've spent many evenings with in pubs and at gigs and at clubs and at houses. People who think they are desperately interesting and original and crucially, more desperately interesting and original than anyone they meet, because they have once in their lives given something cultural or political more than a modicum of thought, or because they have been told that they have. These people and their lack of self-awareness and their patronizing chatter and their awful flirting techniques are everywhere. They aren't charming, and they're ten a penny. It's a protest song about tossers."
'Why Are You So Boring?' is available to pre-order from https://itunes.apple.com/gb/album/why-are-you-so-boring-single/id1230547276
The 'Grow Up' album is available from all the usual online platforms as well as Panda Shop Right Here while the Boring Tour looks very much like this…
JUNE 3RD BERLIN SCHOKOLADEN
JUNE 4TH LEIPZIG WAVE GOTIK TREFFEN
JUNE 9TH MADRID YA'TSA CLUB
JUNE 16TH BISHOP'S STORTFORD THE LONG ROOM
JUNE 17TH BURY ST EDMUNDS HUNTER CLUB
JUNE 23RD NORWICH OWL SANCTUARY
JUNE 24TH LEICESTER SOUNDHOUSE
JULY 1ST READING PURPLE TURTLE
JULY 8TH BRIGHTON PRINCE ALBERT
JULY 15TH SPAIN BENICASSIM FESTIVAL
JULY 22ND LEEDS LENDING ROOM
JULY 23RD SHEFFIELD TRAMLINES (Crystal Stage)
OCTOBER 19TH LONDON TUFNELL PARK DOME
'Grow Up' CD and Dome Ticket Bundle can be found over at Panda Shop Here
Some nice words about the 'Grow Up' album:
'Desperate Journalist are hammering their flag into the icy terrain of the epic end of post-punk (The Cure) and modern indie rock (Arcade Fire), and 'Grow Up' is a personal diary magnified to the scale of an IMAX screen'.
Q Magazine 4/5
'The aptly named Grow Up, dark-edged enough for the black-clad, but with an exuberance that won't alienate the pop loving, is a more confident and more accessible album than its post-punkier predecessor.'
Record Collector 4/5
'Bigger, better, more expansive and fresher, while their collective deportment has something of a swagger about it.'
The Quietus
'A huge undertaking, a staggering achievement. You need this'
The Skinny 5/5
'Bevan and Hardy have composed a modern masterpiece'
Louder Than War 10/10
'Everything which made 'Grow Up's predecessor sound good sounds that much better this time out…It lures you further than ever before into its bewitching alternative reality.'
Drowned In Sound 8/10