featured news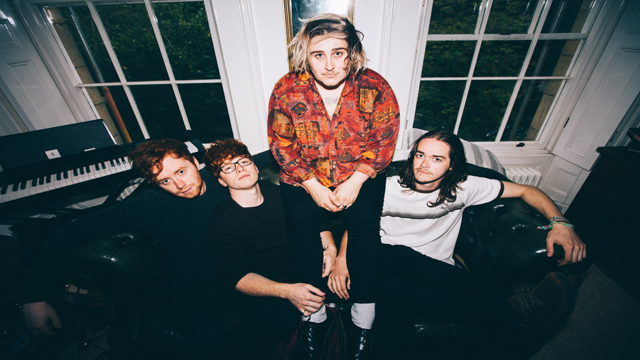 Coquin Take 'munro' To Reading & Leeds!
5th July 2016
Share:



Artist Profile
** COQUIN MIGALE RELEASE MANIC DEBUT ALBUM 'MUNRO' ON AUGUST 19TH... **
**...AND PLAY READING / LEEDS FOR BBC INTRODUCING! **
a desk-kicking fierce panda one sheet
The Act: COQUIN MIGALE
The Release: 'MUNRO'
The Format: COMPACT DISC & DOWNLOAD ALBUM
The Label: fierce panda records
The Release Date: AUGUST 19TH 2016
The Tracklisting:
1. GOLD
2. GRINDIE
3. PT. 2
4. PARIS
5. LUV
6. TWANG
7. FRYNGE
8. SOCOTRA
The Truth: COQUIN MIGALE are from Newcastle. They consist of Alex Soper (guitar / vocals), Stevie Kane (bass) and Josh Holmes (drums) and are pronounced "Co-kane Mig-elle". 'Munro' is their debut album which mixes together COQUIN MIGALE's fizzbombing releases thus far with some cracking Newcy newbies, while also having the decency to include next single 'PT. 2', released on August 5th. The band have also announced Reading / Leeds Festival slots on the BBC Introducing Stage.
'Grindie' / 'Twang' was their first fierce panda single in May. As the title might suggest, 'Grindie' represents a winningly grin-worthy car-crash of grunge and indie, all smash-banging in under three manic minutes. As such it sets the musical template for 'Munro' with its hectic guitars and fragrant vocals and emboldened riffs and lovely subtle cosmic rock flourishes – much like the short sharp song titles 'Munro' rattles through eight tracks of terrifically poised and nonchalantly epic alt.rock in half an hour.
Little wonder that the likes of 'Grindie' and previous releases 'Gold', 'Socotra' and 'Luv' should have all burrowed their sweet, sweaty ways into the hearts of the nation's finest disc jockeying tastemakers such as Huw Stevens, Tom Robinson, John Kennedy and Phil Taggart as well as meriting the homegrown love of BBC Introducing Newcastle.
"There's no denying the fact we want to hear our songs being played on the radio, whether it's local radio stations or national radio stations," they shrug, raffishly. "Everybody wants their music to be heard, right? It still has to be us, we still all have to agree that this is a 'good' song, this is something we enjoy playing and hearing. We ain't just smashing out any old garbage, we're just aiming to have our tracks reach their absolute potential."
Read more of the band's words of wisdom in their track-by-track rundown of 'Munro' below. In the meantime, after rampageous springtime showcase-style shows at The Great Escape in Brighton, Sound City in Liverpool, Camden Rocks in the Little Town of Camdenshire and Narcfest back home in Newcastle COQUIN MIGALE will – quite literally – be rocking up to these shows here and there:
AUGUST 13TH NEWCASTLE HARVEST IN THE DEEP FESTIVAL
AUGUST 23RD LONDON DALSTON BIRTHDAYS Album Launch Party
AUGUST 26TH READING FESTIVAL (BBC Introducing Stage)
AUGUST 28TH LEEDS FESTIVAL (BBC Introducing Stage)
SEPTEMBER 3RD NORTHUMBERLAND BEAL FARM LINDISFARNE FESTIVAL (BBC Introducing Stage)
OCTOBER 8TH MIDDLESBROUGH Twisterella Festival
"Explosive" – Generator
"Sounding excellent" – John Kennedy (Radio X)
"Definitely going places" – Huw Stephens (Radio 1)
"A constant onslaught of shifting energy...short and snappy and everything that good powerful rock music should be." – The Tipping Point
*COQUIN MIGALE'S TRACK-BY-TRACK GUIDE TO THEIR 'MUNRO' ALBUM*
GOLD was our first official single, released off our own backs with some PR help from our manager Kelly Munro and Lost Agency. It's arguably one of our strongest releases to date and an extremely crucial song to help us to advance to where we are now. GOLD has picked up various airplay across local and national stations, including BBC Radio One and BBC 6music, whilst also securing a title as Huw Stephens' discovery of the week.
GRINDIE is a fairly new song of ours which was written in Alex's bedroom. It's a new, heavier sounding direction that we love to dabble with now and again. We're actually into a lot of heavy stuff; GRINDIE being a little taste of that. This is a song that was also made Huw Stephens' discovery of the week.
PT. 2 is probably our favourite track on the record and arguably the most stimulating throughout. It's got a bit of everything, including some incredibly personal and honest lyrics from Alex. PT. 2 also managed to squirm its way onto the BBC Radio One airwaves.
PARIS is an old sing-a-long track of ours which always gets a nice response live. We felt a little harsh leaving it out on the record as it's done us proud live many a time. Simple, straightforward and relatively catchy - a song to dance around to whilst spilling your pint all over your mate's shoulders.
When deciding to record LUV and another track called NUMB, we opted for LUV, despite knowing this wouldn't achieve any national radio play like our previous two releases. We were cool with that and actually felt we wanted to push out LUV for nothing but the feels. I think this was a shout out to how we were feeling at the time and, to our surprise, made Tom Robinson's BBC 6 mixtape.
TWANG is short and snappy pop(ish) tune. A favourite of ours to play live and used to spruce up the set a little. Throw some glitter on and shuffle.
FRYNGE is kinda like the odd one out on this record, the ugly duckling? We sometimes find ourselves forgetting about FRYNGE but actually it's a song we feel has a fair few strengths. Written late in the day and close to recording time but felt it should sit nicely with our others.
SOCOTRA is another of our oldest tracks and one that gives the listener an adventure to follow. You're invited to submerge yourself into the surroundings of this unfamiliar and obscure place, giving you the chance to experience as you wish. As Alex does a lot of the songwriting, he's always aimed to create something that he could possibly hear being played on the radio and hear being fun to play, effective and enjoyed within a live performance. As a band, we've always wanted to achieve as much as we possibly can, go as far as we can and do as much as we can do. Essentially, we're working towards doing this as a full time thing. That's the aim.