featured news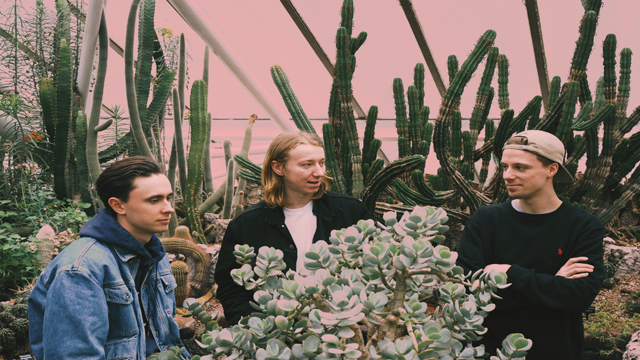 Cosmic Strip! Alphaduka Reach For The Pop Stars!
18th June 2016
Share:



Artist Profile
** ALPHADUKA REACH FOR THE COSMIC POP STARS! **
** 'ALPHADUKA' MINI-ALBUM RELEASED AUGUST 5TH! **
A gently blessed fierce panda one sheet
The Act: ALPHADUKA
The Release: 'ALPHADUKA'
The Format: DOWNLOAD & COMPACT DISC MINI-ALBUM
The Label: fierce panda
The Release Date: AUGUST 5TH 2016
The Tracklisting:
1 'RE-ANIMATOR'
2 'WHY WON'T YOU OPEN UP TO ME?'
3 'I'LL FOLLOW YOU'
4 'VISION'
5 'YOSEMITE'
6 'LIPS'
The Truth: Alphaduka are a three-piece band-stroke-bowling team from London Town who formed in May 2015. They consist of Rob Fenner (vocals, guitar, keyboards), Ben Andrewes (drums, percussion, vocals) and Michael Webb (bass). 'Alphaduka' is an extended play six-track mini-album which features sumptuous imminent radio track 'Re-Animator' (impact date August 12th) and frankly fabulous springtime debut single 'I'll Follow You'.
These two tracks set the sonic agenda for Alphaduka and 'Alphaduka' alike, being as they are sensitive, casually cosmic creations, both lovingly made and immaculately played. Verily, they are quietly bulging with layers of melodies which have been moulded painstakingly together at Kensaltown, Lightship95 and Artillery Studios, as well as the more prosaic surrounds of Del Boy's South London manor: "We recorded vocals and a lot of overdubs (guitars, keyboards, percussion) at our flat in Peckham," they beam. "Our living room is basically a recording studio now."
It works too: there's a genuine warmth and homeliness to the Alphaduka sound which touches on the perfectionist spirit of mid-'80s moodswingers Prefab Sprout, The Railway Children and The Lotus Eaters. "We wanted to create colourful and textural recordings that would reveal more and more to the listener with repeated listens," they enthuse, acknowledging that their influences extend from the retro-psych of Pink Floyd to the intricate guitars of John Martyn via an affection for the epic otherworldliness of Tame Impala.
Ultimately, making "vibrant, sparkling alt.rock with meaning" is the honorable aim of the Alphaduka game, as you may or may not expect from people who tell us that, "Lyrically, the record deals with both the effortless and arduous sides of romance, the strange imagery of dreams and memories of nature."
Come experience some of that strange imagery at these summertime shows here…
JULY 5TH LONDON THE VICTORIA (with Whistlejacket)
JULY 21ST LONDON THE FINSBURY (with Sennen)
AUGUST 9TH LONDON THE VICTORIA (Headline show)