featured news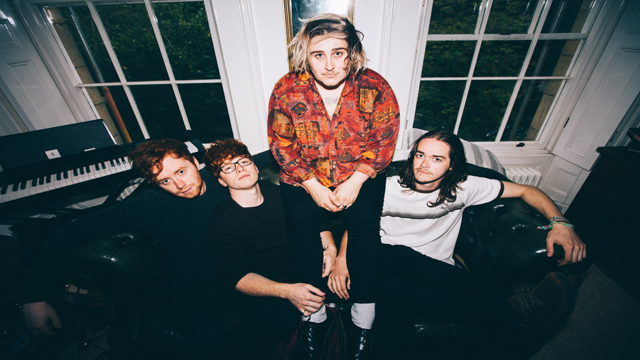 Coquin Migale Fight The 'grindie' Wars!
21st March 2016
Share:



Artist Profile
** HELL'S BELLS! COQUIN MIGALE CUDDLE UP TO THE PANDA! **
** 'GRINDIE' SINGLES CLUB SINGLE DUE OUT MAY 6TH! **
a chair-throwing fierce panda one sheet
The Act: COQUIN MIGALE
The Release: 'GRINDIE' / 'TWANG'
The Format: DIGITAL SINGLE
The Label: fierce panda records
The Release Date: MAY 6TH 2016
The Truth: COQUIN MIGALE are from Newcastle. They consist of Alex Soper (guitar / vocals), Stevie Kane (bass), Josh Holmes (drums) and Jack Brooks (guitar) and are pronounced "Co-kane Mig-elle". 'Grindie' is their first single on fierce panda and, as the title might suggest, represents a winningly grin-worthy carcrash of grunge and indie, all smashbanging in under three manic minutes. See the lavishly moody video for 'Grindie' at www.youtube.com/watch?v=1eoXTh-XPQM
Huw Stephens premiered 'Grindie' on Radio 1 fully two months before the May 6th release date. Huw also made the single his Tip Of The Week and it was played across all 36 BBC Introducing shows, followed by another Radio 1 play from Phil Taggart. Nor is this merely a flash in the fashionable pan - 'Grindie' follows the muscular likes of previous COQUIN MIGALE tracks 'Gold', 'Socotra' and 'Luv' into the hearts of the nation's finest disc jockeying tastemakers.
Heartily justified it is, too, as 'Grindie' is lovely lunging alt.rock with spiffy riffs and broken breakdowns and dreamy choruses. It's a clever combination of style and substance whereby the vocals actually seem to be travelling on a slower ethereal plane above the low-slinging music, but don't take our words for it, take these ones here...
"Their biggest and boldest track yet...genuinely catchy out-and-out rock with howling vocals, driving bass and a punchy dreambeat." - itsallindie.com
"A constant onslaught of shifting energy...short and snappy and everything that good powerful rock music should be." - tipping-point.co.uk
Another snappy single and an album will follow on the panda in the summer, but for now go check out the COQUIN MIGALE live vibes here, here and there:
MAY 9TH LONDON DALSTON The Victoria
MAY 14TH NEWCASTLE Head Of Steam
MAY 19TH BRIGHTON THE GREAT ESCAPE Royal Albion Bar Rogue (3.30pm) & East Street Tap (9.20pm)
MAY 20TH BRIGHTON THE GREAT ESCAPE East Street Tap (onstage 1.20pm & 10.40pm)
MAY 28TH LIVERPOOL SOUND CITY The Cargo Stage (7.15pm)
JUNE 4TH LONDON CAMDEN ROCKS Dingwalls (2.00pm)
JUNE 25TH LONDON TOOTING Tram
JULY 1ST ROMFORD Fiction & Cameo (w/ Clean Cut Kid)
JULY 2ND NEWCASTLE NARCFEST Little Buildings Stage
JULY 6TH LONDON KING'S CROSS Lexington (w/Piano Wire)
OCT 8TH MIDDLESBROUGH Twisterella Festival
'Grindie' hereby joins the ranks of the 'fierce panda: singles 16' army whereby the wistfully underrated independent label releases 12 brand new singles by 12 new acts each and every month throughout 2016 with the support of Arts Council England. March saw the first release from Alphaduka from Peckham, April brings forth the second track by Cavalry from Liverpool, and now COQUIN MIGALE are bringing the darling thuds of May. Check www.fiercepanda.co.uk/singles for the full fp SP...
"Explosive" – Generator
"Sounding excellent" – John Kennedy (Radio X)
"Definitely going places" – Huw Stephens (Radio 1)
"Breathing new life into post-rock" – Glastonbury Festival
"Absolutely superb. Love his voice" – Greg Porter, Amazing Radio