featured news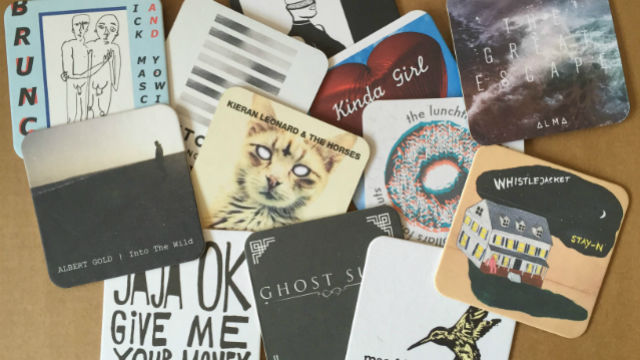 Beermats R Us! The Panda Singles '15 Compilation Album Is Here!!
19th March 2016
Share:



Artist Profile
** BEERMATS R US! THE FIERCE PANDA SINGLES '15 CAMPAIGN ENDS **
** COMPLETE 12 X BEERMAT SET AVAILABLE NOW **
** 'FIERCE PANDA: SINGLES 15' COMPILATION OUT NOW AS WELL **
A totally square fierce panda one sheet
The Artists: VARIOUS
The Release: 'fierce panda: singles '15'
The Formats: 12 x BEERMATS / DOWNLOAD COMPILATION ALBUM
The Release Date: JANUARY 29TH 2016
The Truth: So in January 2015 fierce panda records started releasing one-off singles again for the first time in nine whole years. Verily, the era before 2006 was a hive of seven inch-related activity, with the likes of Placebo, Idlewild, Embrace, Kenickie, Keane, Oas*s, 3 Colours Red, Coldplay and quite literally several more acts slipping through the dank panda single system.
2015 was going to be different however: firstly, we very deliberately set out to release a new one-off single by a new act each month throughout the year under a singles 'club' club umbrella and with the hearty fiscal support of Arts Council England; secondly, each of those singles would be released on digital download and cardboard beermat (cardboard!!! beermat!!!); and thirdly the idea was to keep the project so fresh each act would be chosen barely a month or so before their release came out. Indeed, so fresh would the project be we fully expected that when we kicked off with Fake Laugh last January the December act, Ghost Suns, wouldn't have even fomed yet. And how right we were.
The end result is 12 different cardboard beermats containing download codes to a grand total of 24 smashing songs and those 12 beermats are now available to buy as a complete set for £17.99 including postage. It's a little piece of panda history, innit? Pick it up HERE
Another end result is that the 12 A-sides from the beermats have been collected together on the succinctly-titled 'fierce panda: singles '15' compilation album which is available on decidedly non-cardboard digital download and on a slightly more cardboard-y (covered) CD. You can buy the latter HERE
And here are those 12 2015 releases in full…
1. January: FAKE LAUGH 'KINDA GIRL'
Lovely retro indie tremblings from one Kamran Khan, who can also be spotted moonlighting playing bass in the Oscar live line-up.
2. February: DOE 'AVALANCHE'
Punchy girl-fronted punk rock joy. Doe are never going to get a bassist, so stop telling them to.
3. March: ALBERT GOLD 'INTO THE WILD'
Bittersweet soulpop from Hackney. The video for 'Into The Wild' was filmed at Felixstowe for £250 - see HERE
4. April: KIERAN LEONARD & THE HORSES 'UNDERWOOD MILK'
Classic troubadour action with a grubby grunge edge. Kieran Leonard has recently undergone a revelatory or transcendent experience and is now known as SAINT LEONARD'S HORSES.
5. May: ALMA 'THE GREAT ESCAPE'
Gorgeously fragile post-rock flutterings from London duo bustin' outta Codes In The Clouds and Monsters Build Mean Robots.
6. June: MASAKICHI 'HUMMINGBIRD'
Epically drowsy alt.rock trio featuring guitarist Rueben, who travels the known alt.rock universe guitar tech-ing for Alt-J and Foals.
7. July: THE LUNCHTIME SARDINE CLUB 'DOLLARS FOR DONUTS'
Named after a Reeves & Mortimer sketch, we believe, TLSC create lovely scruffy leftfield noises, as you may or may not expect with a side project from the drummer of Yndi Halda.
8. August: JAJA OK 'Give Me Your Money'
Spikily cosmic guitarpop palavers from East London-dwelling Swedes with a riotous politician-baiting video HERE
9. September: ETCHES 'DO NOTHING'
Reverb-drenched elegance from Liverpool-based combo. Continuing the terrific video theme, check theirs out HERE to see one Owen Ridley Demonick perform an amazing dance routine in Greenwich Foot Tunnel.
10. October: BRUNCH 'SICK MASCHINE' Lovingly-made Pavemental-as-anything slacker joy from band who found their first drummer on Gumtree, who, coincidentally had been drumming in Krill, but left to study here in the UK.
11. November: WHISTLEJACKET 'STAY-N'
Excellently chunky noise alt.rocking all over the world like Status Quo jamming with Sonic Youth. Whistlejacket release the 'What I Ate On Sunday' EP on the panda on February 5th.
12. December: GHOST SUNS 'WE ARE NOT GOOD PEOPLE'
Startlingly deadpan electronic pop from Franco-Swiss boy-girl duo hunkered down in a bunker off the Holloway Road. Also quite possibly the first act to release a record on fierce panda without ever having played a gig. Furry fact.