featured news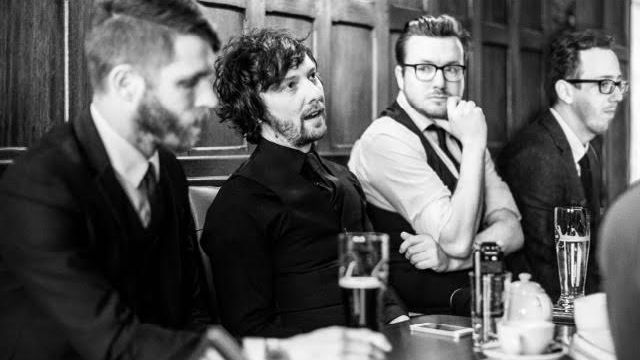 The Hosts Tour The 'moon'!
19th April 2016
Share:



Artist Profile
** LUNAR TUNES AHOY! THE HOSTS' 'MOON' IS RISING ON APRIL 29TH! **
A heart-pumping fierce panda one sheet
The Band: THE HOSTS
The Release: 'MOON'
The Formats: DOWNLOAD & COMPACT DISC ALBUM (Follow Links For Pre-Order)
The Label: fierce panda records
The Release Date: APRIL 29TH 2016
The Tracklisting: 1 'Baby Move On'; 2 'Make My Heart Turn Blue'; 3 'Smile'; 4 'Breathless'; 5 'One Horse Town Called Love'; 6 'I Wish I Never Saw The Sunshine'; 7 'Moon (Over Montana)'; 8 'Know You Well'; 9 'Lonesome In Your Dreams (Burn Bright With Those Old Flames)'
"An explosion of drama, emotion, swinging pop melodies and wonderfully silky vocals." - rockingrepublic
The Truth: THE HOSTS are from Sheffield, Yorkshireville. They consist of Thom Hogg (vocals, guitar), Jim Fraser (keyboards), Jamie Shipley (guitar). David Glover (bass) and new drummer Tom Reay-Bennett. Back in February 2014 they released their debut album called 'Softly, Softly' and now, precisely two years later, they have announced the release of the follow-up, entitled 'Moon'. They have also announced this UK tour below. Tidy behaviour, in every sense.
May 18th HULL Adelphi
May 19th LONDON Highbury Garage
May 20th BIRMINGHAM Flapper
May 22nd LEEDS Oporto
May 23rd MANCHESTER Gullivers
May 24th NEWCASTLE Think Tank
May 25th GLASGOW Broadcast
May 26th SHEFFIELD Leadmill
May 27th LEICESTER Soundhouse
'Baby Move On' is the first single to be launched off 'Moon', and sets the velveteen stage perfectly with its raucous wall-of-sound lushness and gigantically ace key changes which garnered playlist action from BBC 6music, Single Of The Week on Absolute and stacks of plays from John Kennedy at Radio X and Janice Long over at Radio 2. Next up comes the second single. 'Make My Heart Turn Blue' (released on May 13th), which is an exuberantly odd take on classic rock'n'roll melodramatics, slightly like David Lynch rewriting the 'Grease' screenplay.
And here is where we find the dark side of the 'Moon': on the lunar surface these besuited potential suitors are retro a-go-go dreamers, all crooned verses and emotionally emboldened hook-lines, be it with the finger-clicking hullabaloo of 'Moon (Over Montana)' or the impeccably sweet-natured '70s soul of 'Smile' - not for nothing have they been described as "the sound of ELO fighting a bear". But The Hosts aren't merely hopelessly devoted to recreating the past.
Indeed, in the true tradition of rock'n'roll's traumatic history peel beneath the layers there lurks a genuinely weird undercurrent to The Hosts. It could be Jim Fisher's gently freaky keyboard curls, it could be frontman Thom's world weary observations on love, loss and libido-or-don't, but 'Breathless' is possessed by the spectre of Spector rewriting 'Creep', 'One Horse Town Called Love' is a spaghetti-themed howl from the soul of a wild west zero, while 'Know You Well' is imbued with a haunting sense of longing amidst the sumptuous melodies. Little wonder The Hosts are seen as the perennial ghosts in the music machine.
The Hosts have previously spooked the masses playing with the likes of Richard Hawley, The Walkmen, Paul Weller, Suede, Cold War Kids and Cherry Ghost (but of course). And as sure as that 'Moon' rises over Montana, Manchester and beyond they will be playing live again soon. In the meantime, let frontman Thom explain the mysteries of The Hosts' ever-expanding creative universe:
"'Moon' began life in the downtime of the 'Softly, Softly' sessions. For us it is an album that has moved on from the first, an album with more experience, self-realisation and knowledge. Recorded as Hosts HQ, Tesla Studio and co-produced and mixed by our very Mr David Glover 'Moon' is an in-house and at home record that feels like it belongs to us.
"'Moon (Over Montana)' was the first song to come to life and the penultimate to be finished - the album always had a working title of 'Moon' for this reason. But as the record grew the title stuck and made a lot of sense to us: 'A record which can shine, sits comfortably amongst the stars and can certainly eclipse...'."
"Our 'difficult' second album is a rollercoaster of realisation, so strap yourself in and listen good, ladies and gentlemen, to the 'Moon'..."
http://www.facebook.com/thehosts
What People Are Saying About The Hosts:
"The Hosts' output is redolent of Roy Orbison crooning mournfully yet manfully over mountain-high rhapsodies worthy of Spector." - The Guardian
"Demand more magic from your music. If you want nothing less than brilliance, give The Hosts a chance and they may just be the band for you." - www.godisinthetvzine.co.uk
"'Softly Softly' is an album worth listening to on repeat for about a month solid before you truly realise how good it is - and once you do, you won't be able to resist." - hootingandhowling.com (album of the year)
"This is truly glorious stuff." - www.roots-and-branches.com
"A lot of heart and a keen sense of glorious nostalgia." - www.whisperinandhollerin.com
"If you have a single romantic bone in your body, this should be a required purchase for your sweetie this week." - www.theregoesthefear.com
"For those who love someone, whether requited or not, 'Softly Softly' is an album to dance to, to love to, to take to your heart and cherish." - www.forfolkssake.com
"Their warm grandeur will keep even the bitterest winter at bay." - www.backseatmafia.com