featured news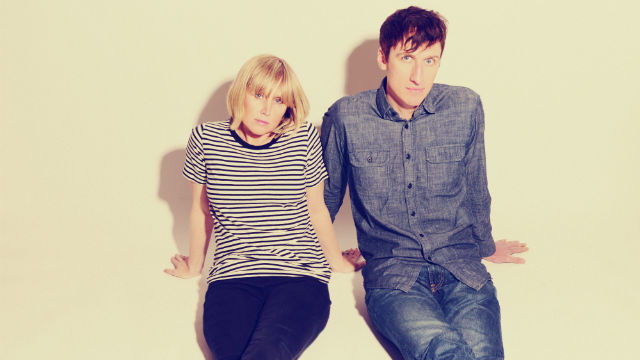 Fierce Panda Welcome Mates Of State And Their Album, 'greats'!!
10th March 2015
Share:



Artist Profile
* MATES OF STATE BREAK OUT OF THE STATES! *
* FIERCE PANDA RELEASES 'GREATS' COMPILATION... *
* ...AND REISSUES THREE CLASSIC MOS ALBUMS... *
* AND THERE'S A BRAND NEW EP COMING IN THE SUMMER! *

The Act: MATES OF STATE

The Release: 'GREATS'

The Format: COMPILATION ALBUM ON CD / DOWNLOAD

The Release Date: APRIL 6TH 2015

The Label: FIERCE PANDA The Tracklisting:
1 'Palamino'; 2 'For The Actor'; 3 'Get Better'; 4 'Punchlines'; 5 'My Only Offer'; 6 'Unless I'm Led'; 7 'Now'; 8 'Fraud In The '80s'; 9 'Mistakes'; 10 'The Re-Arranger'; 11 'Sway'

The Truth: Much like London buses MATES OF STATE take their time, but when they rock up they rock up en masse: nine years since they last played live in the UK and four years since their last album the gently revered and longtime married Conneticut-based exuberant indie-synth-pop duo of Kori Gardner (vocals, organ, piano and occasional guitar) and Jason Hammel (vocals, drums, percussion and occasional synthesiser) have announced a flurry of European activity including the release of a brand new EP, the reissue of three previous albums and the launch of a new compilation.

That Mates Of State compilation is called 'Greats', but rather than spanning their lengthy career it very much focuses on the past decade by bringing together various vivacious highlights of those three reissues, those albums being 'Mountaintops' (originally released in 2011), 'Re-Arrange Us' (2008) and 'Bring It Back' (2006). And a super shiny sweethearted collage those various vivacious highlights make, too, as the likes of 'Palamino', 'Get Better', 'Mistakes' and 'For The Actor' capture the twosome's bouyant synthpop sensibilities and gently melancholic melodic instincts.

This is the first time 'Re-Arrange Us' and 'Mountaintops' - Mates Of State's fifth and seventh albums respectively - have ever been officially available in the UK and Europe. Even more exciting than that, a Mates Of State EP called 'You're Going To Make It', which features five new songs, is released on fierce panda on June 15th. And even more exciting than THAT is the rumour that Mates Of State will be heading to the UK and Europe in late summer for their first shows over here since touring with We Are Scientists way back in 2006. Now that really is greats news...