featured news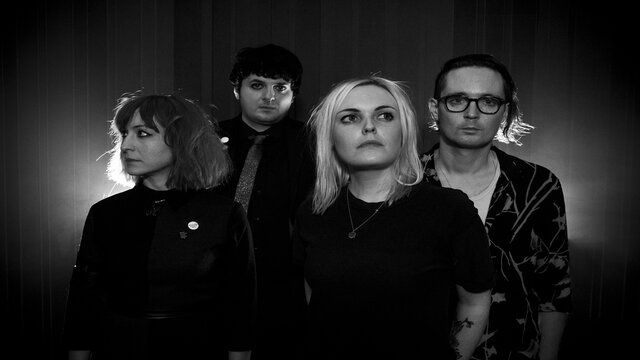 Desperate Journalist Count Down To Label Mates Ill!
2nd February 2015
Share:



Artist Profile
** DESPERATE JOURNALIST HEADLINE THE SHACKLEWELL ARMS ON MARCH 10TH **
** ('DESPERATE JOURNALIST' ALBUM OUT NOW) **
** WHITE GIANT + SKIES BRING THE SUPPORTING NOISE **
Starting 2015 as meaningfully as they've thundered through the past 18 months, bruisingly noirish indie quartet DESPERATE JOURNALIST hurled themselves into the new year with the physical release of their coruscating self-titled debut album on January 26th and a fizzingly sold out show at the Lexington four days earlier. Now preparing for the springtime release of their next single, 'Hesitate', Desperate Journalist head to Dalston for this very special show here:
fierce panda presents Label Mates III
DESPERATE JOURNALIST
+ WHITE GIANT
+ SKIES
TUESDAY MARCH 10TH 2015
LONDON DALSTON SHACKLEWELL ARMS
(71 Shacklewell Lane, London E8 2EB)
Advance Tickets £6.00 via www.wegottickets.com/event/307081
Label Mates III is the third gathering of some of the feistiest independent labels around, wherein between March 6th and March 15th the Shacklewell Arms hands over the keys to its smashing venue to the crash-bang-walloping record company likes of Burger, Fortuna Pop!, Cardinal Fuzz, Odd Box, Trashmouth, Bad Vibrations, Fuzz Club, Faux Discx, Heavenly and little old us to flaunt their wares.
DESPERATE JOURNALIST (onstage 10.00pm) are perfect headliners for fierce panda's big night out, not least because the terrifically terse quartet encapsulate so much that is right and righteous about the spirit, the punchiness and the attitude which has driven independent music forward for the past 38 years. But don't take our word for it, take these desperate journalists' thoughts on 'Desperate Journalist' by Desperate Journalist here...
"Indie hymnals, just at home in the murk of a basement club and the strobe lit concert hall, as the solitary bedroom. Walls diffused with posters of bands, a silent audience that reflects your wanton heart." - drownedinsound
"There's a burning sense of anger bubbling beneath the surface, a passion and intensity that has been sorely lacking in much of what passes for indie over the last few years." – The Von Pop Musical Express
"Desperate Journalist play powerful guitar pop that hits like The Smiths amped up to Savages' intensity levels...A ceaseless onslaught of riffs, rhythms and Jo Bevan's commanding microphone presence." - Stereogum
"What this record does possess is a joie de vivre and a humanity absent from so much of what passes for indie these days. It's not a lost cause, the world just needs more records that make you swoon, like this one." - The Quietus
WHITE GIANT (onstage 9.15pm) are three bearded tykes from Leicestershireshireshire who create splendidly complex soundscapes out of the simplest of bass-drums-guitar formats. Theirs is a planet of tropical twinklings mixed with bluesy outbursts which nods at every heavily groovy band you've heard over the past 19 months, but sounds like nobody else at all.
www.facebook.com/whitegiant
SKIES (onstage 8.30pm) are an Indie, synth-pop, alternative band from Folkestone, Kent, UK. With addictive melodies, strong lyrics and a big sound - SKIES have an engaging live show and are set to release new material in the coming months - after having recently released their debut single (as the new line up) 'Doors' which has been featured on BBC Introducing in Kent.
www.facebook.com/skiesbanduk