featured news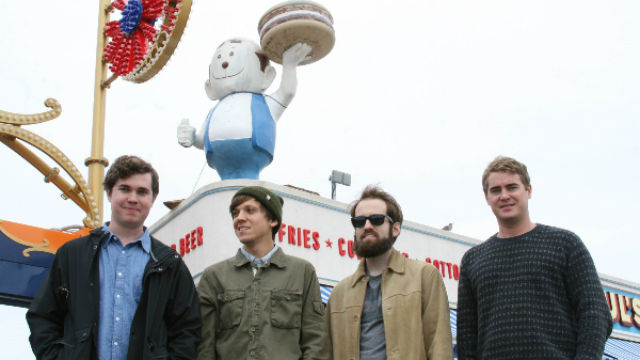 Surfer Blood Sign To Fierce Panda
20th March 2015
Share:



Artist Profile
* SURFER BLOOD BLINKING WELL SIGN TO FIERCE PANDA *
* NEW TRACK 'DORIAN' PREMIERED BY HUW STEPHENS ON FEBRUARY 16 *
* THIRD ALBUM '1000 PALMS' DUE MAY 11TH *
PRE-ORDER NOW
A punchily concise fierce panda one sheet
The Act: SURFER BLOOD
The Release: '1000 PALMS'
The Formats: DIGITAL / VINYL / COMPACT DISC ALBUM
The Label: FIERCE PANDA
The Release Date: MAY 11TH 2015
The Tracklisting: 1 'Grand Inquisitor'; 2 'Island'; 3 'I Can't Explain'; 4 'Feast / Famine'; 5 'Point Of No Return'; 6 'Sabre-Tooth And Bone'; 7 'Covered Wagons'; 8 'Dorian'; 9 'Into Catacombs'; 10 'Other Desert Cities'; 11 'NW Passage'
The Truth: Surfer Blood consist of John Paul Pitts (vocals / guitar), Thomas Fekete (guitar / vocals), Kevin Williams (bass / vocals) and Tyler Schwarz (drums). They formed in West Palm Beach, Florida and '1000 Palms', their third album, is the first since signing to fierce panda for the UK and Europe. They launch the '1000 Palms' campaign with a premiere of the 'Dorian' track (think Death Cab hitting on '70s FM airwaves) on Huw Stephens' Radio One show on Monday February 16th before the full album release on May 11th.
You may recall that Surfer Blood were quite the breakout band of 2009: in the midst of their own 10 gig marathon at New York's CMJ Pitchfork took one look at their 'Astro Coast' debut on Kanine and praised its "lo-fl clangor, glo-fi harmonies, punchy retro-garage concision and never-out-of-style classic rock songcraft…the band appears to have arrived at its enormously likeable sound organically." Touring with Pixies and playing every cool festival on the known planet only seemed to solidify Surfer Blood's place in the hipster heartland.
Fate – as tends to be the case – had different ideas, however. A worldwide deal with Warners promised much, not least recording sessions with Gil Norton for 'Astro Coast' follow-up 'Pythons', but Surfer Blood's second album syndrome turned out to be a bruising experience on and off stage, in many ways. Little wonder then that by the close of 2013 the quartet were beyond ready to return to a more DIY process, ("Completely void of the middlemen scrutinizing every bar of 'Pythons'," as the band put it), and seek refuge in the original Surfer Blood mentality.
So the story of '1000 Palms' began on January 1st 2014 when, after playing a New Year's show in Portland, Oregon Surfer Blood decided to stick around for the rest of the month, renting a practice space and sorting through a backlog of ideas. By February, as their lease ran out, they had recorded the demos for most of the tracks that now feature on this album. The band's self-recordings continued in the glamorous setting of an attic studio above a doctor's office, where the drums were laid down, with the remaining instrument sessions taking place at the home of drummer Tyler Schwarz's parents - while they were on vacation, natch. As deadpan vocalist John Paul Pitts deadpans: "Fortunately none of us are strangers to DIY recording, so it seemed like the kind of challenge well-suited to our band."
In fact, the making of '1000 Palms' owes a heck of a lot to the kindness of friends and family. Following a few days of very little sleep and after the band pooled their dwindling resources and called in a multitude of favours, Surfer Blood had managed to craft everything you can now hear on the upcoming record...And d'you know what? '1000 Palms' is an album of lo-fi clangor, glo-fi harmonies, never-out-of-style classic rock songcraft and all the rest. It's a sound which is a bit more bruised since the innocent take off of 'Astro Coast' but, yeah, the likes of 'Dorian', 'Islands' and 'I Can't Explain' are enormously, knowingly, gnawingly likeable too.
Surfer Blood are currently touring North America. UK dates will be announced soon.