featured news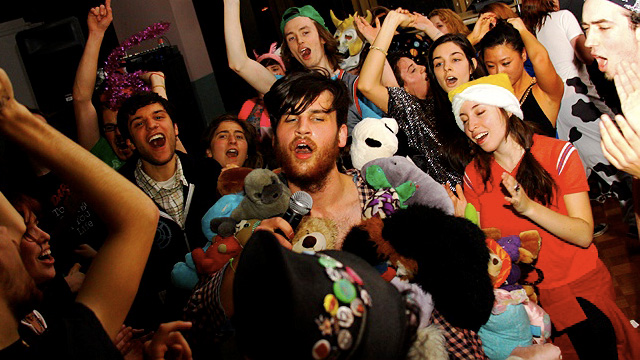 Terror Pigeon Yuck Up!
6th January 2015
Share:



Artist Profile
An alarmingly airborne London In Stereo / fierce panda one sheet

The Act: TERROR PIGEON!

The Record: 'YUCKSONGS! 2014:('

The Format: DOWNLOAD ALBUM

The Release Date: JANUARY 5TH 2015

The Labels: LONDON IN STEREO / fierce panda

The Tracklisting:
1 'Ghost Stories Over Girls' High School 1'
2 'Dharma And Greged'
3 'Hair Reprise'
4 'The Internet'
5 'Pretty Dumb / Cool Everything's Gonna Work Out Love Song'
6 'Neil Circa 2007'
7 'Mean Voice Memo'
8 'Voldemort Time!'
9 '1 If By Land, 2 If By Sea, 3 IF BY ROCK N'ROLL!!!!!!!!!!!!!!!!!'
10 'Wonderdave!'
11 'Track 8 from the Last Album but before I Gave Up'
12 'Willennium II'

The Truth Is Out There: Last year Terror Pigeon released 'Live It Up Before You Die It Up!', their second album which was a geekpunk riot of colour-crazed choruses, thrift store electronics and indestructibly buoyant melodies. There was a party going on in their sweaty, nerdy heads, and we were all invited. Now the Terror Pigeon party continues with 'Yucksongs! 2014:(', a twelve-track collection of crunchypop antics and open-hearted tunes which acts as a companion piece to the 'Live It Up Before You Die It Up!' opus, if you will. The onion to its cheese, the vinegar to its salt, the mustard to its ham 'Yucksongs! 2014:(' also nails Terror Pigeon as the enigma lurking within an electropop mystery machine.

What we do know is that Terror Pigeon call Nashville home, venture forth on crusades such as 'The Unreasonably Long Bus Rides Tour' tour, describe themselves as "the world's sweatiest band" and over the course of three face-thumping minutes can encapsulate the deathless joys of being a rock star in your head and in the back of a van on a road to nowhere like very few others. Oh, and we also know that a certain Mr Neil Fridd is the creative driving force at the wheel of this careering career. Who better, then, to explain 'Yucksongs! 2014:(' in a singular nutshell than the man himself?

"The best analogy I can think of for 'Yucksongs! 2014:(' is that it's Terror Pigeon's 'Amnesiac'. Last year we put out 'Live It Up Before You Die It Up!', a brutal collection of take-no-prisoners apocalypse jams. (Just kidding - it's super positive dance music. It's fucking great if you haven't heard it). "Technically, it's a collection of 'LIUBYDIU!' outtakes, but like 'Amnesiac' there are some real gems here. You got a super cool slow burner about a long distance relationship, you got a rager about playing house shows 'til you're dead, you got a song I wrote before I wrote songs that was recorded entirely in a hotel bathroom, you got a remake of track 8 from 'LIUBYDIU!', you got a song about a screenwriter who paid me to write a song about his boyfriend, you got a follow up to an ancient fan favorite TP track, you got a rave anthem I made in high school, you got a banger named after Will Smith about hiding money in cats. Pretty much the only thing you don't have is a boring, slow remake of 'Morning Bell'. "Basically, 'Yucksongs! 2014:(' is a b-sides album, but the best damn b-sides album in town!"

A banger named after Will Smith...

...About hiding money...

...In cats.

Just what the hecking heck is there not to love about this Terror Pigeon guy??!!??