featured news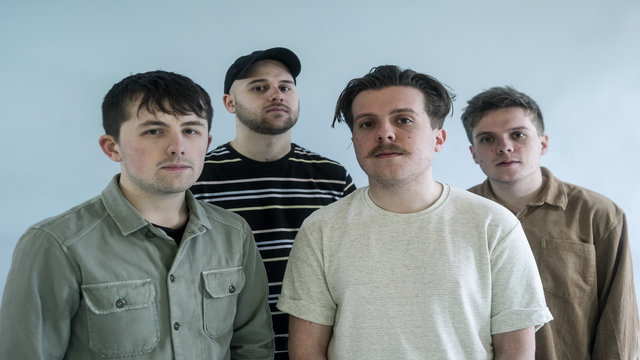 China Bears Bare All On Tour!
11th October 2019
Share:



Artist Profile
** CHINA BEARS BARE ALL ON THE 'I'VE NEVER MET ANYONE LIKE YOU' EP TOUR! **
A lusciously sad-faced fierce panda one sheet
The Act: CHINA BEARS
The Release: 'I'VE NEVER MET ANYONE LIKE YOU'
The Format: DIGITAL EP
The Release Date: OUT NOW
The Tracklisting:
1. 'COLD SHIVERS'
2. 'SUNDAY'
3. 'STAY FOR GOOD'
4. 'TRICK MYSELF'
5. 'I'VE NEVER MET ANYONE LIKE YOU'
Out Now On All Digital Platforms - Listen Here
Out Now On CD - Buy Here
"A gift from the heavens, an absolute masterpiece."
- www.underscorepart3.co.uk
The Truth: China Bears were formed in Somerset in 2015 by twin brothers Ivan (guitar / vox) and Frazer (guitar). The line-up was completed after meeting bassist James and drummer Dean at university in Guildford later that year. Fresh from orbiting the fruitier regions of the festival circuit they are now poised to take their current exquisite debut 'I've Never Met Anyone Like You' out on a fulsome UK tour which has graciously become part of fierce panda's 25th anniversary celebrations - full dates below.
'I've Never Met Anyone Like You' contains five tracks including 'Stay For Good', their barnstorming first single on fierce panda earlier in 2019, the lusciously sad-faced springtime follow-up 'Sunday' and their most recent radio outburst 'Cold Shivers', a slow-burning journey through tremulous vocals and crushing old school emo power chords. Add in the deceptively blossoming 'Trick Myself' and the quietly amazed melancholy of the title track and you have yourself an EP for the ages by a quartet heading for the grandest of stages.
For here is a band which gently bandies around words like "honesty"; a band which makes music which can be painfully intimate, but enormously approachable; a band which nods sagely at the stadium-sized introspection of The National, Dry The River, Snow Patrol and Death Cab For Cutie; and a band which, in the case of the aforementioned 'Sunday' can come up with a sublimely sub-hysterical hook which goes: "Good God it's a Sunday afternoon / What are you doing on the kitchen floor again?"
Happily before cuddling up to fierce panda China Bears had already self-released three sultry tracks, 'Meet Me In London', 'Hydra' and 'Night Calls', earning airplay from Huw Stephens on BBC Radio 1, Steve Lamacq on BBC 6music, John Kennedy on Radio X and Melita Dennett via BBC Introducing in The South along the way. Along another way they've had notable support slots with acts such as Genghar, The Districts, To Kill A King, The Howl & The Hum, Declan McKenna, The Big Moon, Blackwaters and most recently Goldheart Assembly at the 100 Club, and are currently cruising through the summer festival circuit. Go be quietly amazed at these gigs here:
CHINA BEARS 'I'VE NEVER MET ANYONE LIKE YOU' TOUR
(with the support of fierce panda records : 25 alive)
Monday November 18th – Birmingham Sunflower Lounge
+ Robert Craig Oulton + Shai Brides + Humanstairs
Tuesday November 19th - Bristol Crofters Rights
+ James Humphreys + Andy Oliveri & The Mountaineers
Wednesday November 20th – Guildford Boileroom
+ Life Like Charlie + Basement Club + The Collier
Thursday November 21st - Cardiff Tiny Rebel
+ Roves + Bear Island
Friday November 22nd – Colchester CODA
+ Groff + Gabriella Eva
Saturday November 23rd – Norwich Voodoo Daddy's
+ Hugo Z + History & Lore
Sunday November 24th – Leicester Soundhouse
+ Dark Bloom + Tin Pigeons
Monday November 25th – Manchester Castle Hotel
+ Easy Kill
Tuesday November 26th – Leeds Hyde Park Book Club
+ Green Gardens + Paradas + Isaiah & The Moon Waves
Wednesday November 27th – York Fulford Arms
+ The Veneers + Pool Room + Pavillion
Thursday November 28th – Newcastle Surf Cafe
+ One Million Motors + Blast Beach
Friday November 29th – Sheffield Cafe Totem
+ Honeymoon Suite + Beachcomber
Saturday November 30th – Liverpool The Jacaranda
+ Venus Demilo + Gold Beach + Hollywood Eyes
Thursday December 5th – London The Old Blue Last
+ Skint & Demoralised + special guests
www.chinabears.co.uk
www.facebook.com/chinabearsband
www.fiercepanda.co.uk