featured news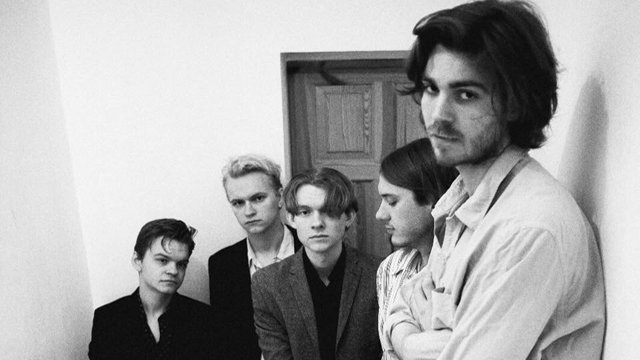 It's Breakfasttime For The Caress!
4th January 2018
Share:



Artist Profile
* THE CARESS DRESS TO IMPRESS IN THE NEW YEAR! *
* 'BREAKFAST WITH LEATHER APRON' BREAKS OUT ON JANUARY 19TH! *
A fragrantly old fashioned fierce panda one sheet
The Band: THE CARESS
The Release:
'BREAKFAST WITH LEATHER APRON' (full version)
'BREAKFAST WITH LEATHER APRON' (Jaunts Remix)
'BREAKFAST WITH LEATHER APRON' (radio edit)
The Format: DIGISINGLE
The Release Date: JANUARY 19TH 2018
The Label: fierce panda records
The Truth: The Caress are still very much an alternative three piece combo based in New Cross, South East London, comprised of brothers Tom Easton (guitar and vocals), Ben Easton (bass and vocals) and Sam Easton (drums and vocals). Formed in December 2015, their music is visceral and melodic, with a quintessentially British charm. They draw mainly on influences such as Phil Spector's Wall Of Sound, '60s Girl bands and '80s indie acts. Lyrically they try to find the beauty and intrigue in the mundane and grey, through stories of youth, sex, naivety and loneliness.
'Breakfast With Leather Apron' is the third and final single to be taken from The Caress' debut EP 'You Say I Kiss Like A Girl', released in September 2017. It is an anxious and energised ending to both the EP and their live sets. Lyrically, it is a literate character study of a modern day chauvinist and playboy, with sly references to Sir Arthur Conan Doyle, Jack The Ripper and Doctor Faustus. Musically, the track is a dark, rumbling number, meandering throughout, with an explosive crescendo and nods to both pop and goth, like Echo & The Bunnymen and The Cure. The single is accompanied by a remix from South East London's Jaunts and a Radio Edit.
'Breakfast With Leather Apron' follows hot on the cuban heels of the brilliantly sardonic 'Man Up' single, the video for which starred Laurie Kynaston, an actor who has previously played both Danny Baker and Johnny Marr (although not at the same time). 'You're Always Miles Away' meanwhile was the first single off the EP with its reverb-drenched tambourine, atmospheric guitars and handclaps inspired by Northern Soul stompers. It was Steve Lamacq's Livener on BBC 6 Music and premiered by Clash who described it as "a coy blast of melodic wordsmithery" over here: www.clashmusic.com/news/premiere-the-caress-youre-always-miles-away
The Caress kick off the new year with this special gig here:
THURSDAY JANUARY 11TH
LONDON DALSTON THE VICTORIA
PANDAMONIUM '18 SHOW
(w/ ANIMAL NOISE + GOOD GUY CLARENCE)
free entry
RSVP: www.facebook.com/events/1586118604781039