featured news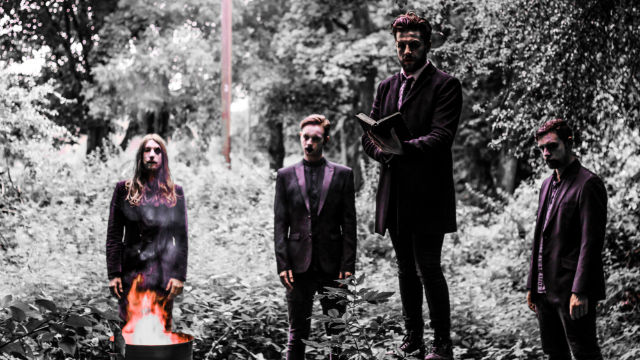 Sean Grant & The Wolfgang Get Deadly!
24th March 2016
Share:



Artist Profile
* SEAN GRANT & THE WOLFGANG FACE THEIR DESTINY *
* BRAND NEW '7 DEADLY 7' EP HEADS OUT ON 06.05.16 *
a maddeningly maturing fierce panda one sheet
The Act: SEAN GRANT & THE WOLFGANG
The Release: '7 DEADLY 7'
The Format: FOUR TRACK DIGITAL EP
The Label: fierce panda records
The Release Date: MAY 6TH 2016
The Tracklisting:
'BROTHER'
'BEST OF MEN'
'TAKE A MAN'S BODY'
'7 DEADLY 7'
The Truth: Sean Grant & The Wolfgang consist of Sean Grant (vocals / guitar) and his wolves Steve Fiske (guitar / vocals), Phil Andreas (keyboards) and Matt Banham (drums). They dwell in the middling earth of Englandshire between Milton Keynes and Northampton, and revel in a rabble-rousing brand of tightly wound rock'n'roll armed with beards, blazers and blisteringly rowdy tunesmithery.
In 2014 Sean Grant & The Wolfgang released the 'We The Working Class' EP. In 2015 came the 'War Machines' EP. Now, displaying a fittingly fearsome level of consistency on May 6th 2016 they release '7 Deadly 7', another righteously constructed and fully-formed four track EP which once again sees Sean and his lupine band delve deep to pick out narratives inspired by the past, yet important to today.
This time around Sean Grant's frank realism depicts man's search for meaning across four new tracks in a far more personal way than he's ever done before, drawing on the struggle of everyday life in a modern setting. These four narratives delve into creation, love, temptation, desire, frustration and desperation based on the decisions and choices we make within the environment around us. "It's a beast of a world and this is a group of songs trying to make sense of it and get through it," the frontman frets.
Across the previous two EPs Sean Grant has laid out his stall with a storming folkpunk fury where words like "clenched fist"and "gritted teeth" have been vigorously bandied around about his band by the blogosphere - verily, their blue collars are the colour of dark bruises. All the more surprising then that title track '7 Deadly 7' should turn out to be a startlingly sombre and dangerously beautiful choral moment.
"This track draws on experiences from school and church," explains Grant. "I grew up around religion, but sitting outside of it looking in, trying to make sense of it all. It's a dilemma, mainly as my mother is a Born Again Christian and my father an atheist, so I was given both views. '7 Deadly 7' isn't saying which is right or wrong, it's an observation of a man who is looking for peace and quiet to fall into and take hold of him."
Happily for those of you already attuned to the Wolfgang brand of howling melody and highly strung harmonies elsewhere the '7 Deadly 7' EP features three stridently rocking new songs with lead radio track 'Brother', 'Best Of Men' and 'Take A Man's Body' all produced and mixed by Guy Massey (Spiritualized, Manic Street Preachers, Depeche Mode et al). Better still no fewer than three of the four EP tracks are accompanied by their very own videos which don't shirk on the tombstones, burning flames, neo-gothic imagery and mad staring eyes. Come stare into those eyes at these Sean Grant & The Wolfgang live shows here:
MAY 7TH MILTON KEYNES Crauford Arms
MAY 9TH LONDON DALSTON The Victoria
MAY 12TH LEICESTER Brew Dog
MAY 14TH NOTTINGHAM Black Iris Brewery (w/ 94 Gunships)
MAY 20TH BRIGHTON The Alternative Escape East Street Tap
MAY 21ST NORTHAMPTON Beer Festival (onstage 4.00pm)
MAY 21ST BEDFORD Esquires (This Feeling)
JUNE 9TH LONDON BETHNAL GREEN Working Mens Club Sham Bodie www.facebook.com/seangrantandthewolfgang
www.fiercepanda.co.uk